THE RELIEF-BLOCK PRINTS OF STEPHEN ALCORN
All images hand-printed by the artist on acid-free paper.
The Artist of the Missing
For The Artist of the Missing, a critically acclaimed contemporary novel by author Paul LaFarge, Alcorn created 11 lyrical and mysterious works in which his trade mark chiaroscuro, intricate patterning, inversion of conventional perspective, as well as playful defiance of the laws of gravity, conspire to lead the reader through a visionary novel about love, loss, imagination, and despair.


(To enlarge imagery, simply click on thumbnail/s of your choice.)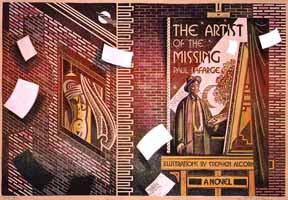 Jacket Art


Individual prints: $150.00 plus shipping and handling
(kindly add state sales tax when applicable).

Complete set of 11 prints: 11 x $75.00 (volume discount) = $825.00 plus shipping and handling
(kindly add state sales tax when applicable).


Words of Praise
"An amazing first novel, filled with rare insight into the paradoxes of love. And Stephen Alcorn's engravings are worthy of Lynd Rand"
— Alexander Thoreaux
Stephen Alcorn's bold illustrations add a visual dimension to this landscape. His highly stylized engravings are at once magnificent and subtle interpretations of the text. Indirectly, too, they underscore one of the novel's main themes: the artist's capacity to transform reality.
— Jodi Daynard; Fiction Editor, The Boston Globe, Sunday review; 7/25/99
Book Description
Frank, a young artist, arrives in the city hoping to unravel the mystery of his parents' disappearance. He begins working as a washer of robes in a hotel for itinerant judges. There he meets and falls in love with Prudence, a forensic photographer whose pictures reveal the secrets of the dead. When Prudence disappears, Frank sets out in search of her, a quest that leads him into the shadowy world of a revolutionary salon, then to a prison, and finally to discover the city's strange secrets and the secrets of his own heart. A haunting novel that recalls the early work of Paul Auster and Steven Milhauser, The Artist of the Missing is a stunning debut, both a richly imagined evocation of another world and a piercing examination of the mystery of love, and beautifully illustrated by acclaimed artist Stephen Alcorn.
— The Publisher
Order Book — The Artist of the Missing is published by Farrar, Straus & Giroux. ISBN: 0374525803 256 Pages; May,1999; Paperback